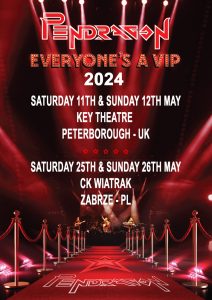 VIP '24
More VIP weekends for 2024
Following the fantastic reaction to the VIP weekends in May 2023, we've decided to host two new VIP weekends in 2024.
VIP '24 will have a similar format, Day 1 will be a full set of Pendragon favourites, including highlights from Love over Fear and Not of This World and other great stuff, and after a short break the band will return with an acoustic set. Those of you who were lucky enough to attend the VIP weekends this year know that the acoustic set is a wonderful informal wind down for the end of the evening.  Day 2 will include meet'n'greets, photo opportunities, Q&A session, and the main Pendragon set which will feature The Window Of Life in its entirety and other favourites. As with the VIP weekends this year, expect the unexpected!
Saturday 11th & Sunday 12th May 2024 VIP UK
VIP '24 UK will be at The Key Theatre, Peterborough.  This venue has been carefully chosen, there are fantastic public transport links to the town for those of your travelling both north and south, plenty of accommodation to suit every purse, and the theatre itself is all seated and well situated close to the river, parks and city centre with plenty of nearby parking.  It's slightly smaller than The Platform and after the success of the VIP weekend this year we expect tickets to sell fast!  As before in the UK, we'll do an evening show on Saturday, and an afternoon show on Sunday. Support for both days will Rog Patterson. 
Saturday 25th & Sunday 26th May 2024 VIP Poland
We are very excited to announce that for 2024 we'll host a VIP weekend in Zabrze, Poland. Those of you aware of Pendragon history will know that in May 1994 we first played in Poland on The Window Of Life tour and so began the special relationship we still have with the Polish fans. 30 years later we'll bring this much loved album back to the city and we just know that this will be such a special event that it too will become a memorable part of the Pendragon story.  VIP '24 Poland will be at CK Wiatrak, Zabrze and both days will have an evening performance and will be exclusive Polish shows.
Times, details of activities, and more information for both VIP weekends will be released early in 2024.