It's almost here!
All the hard work has been done and we now have news of the DVD recorded on the MO20 Tour in 2016.
It's being released as a DVD and also as a 2 CD digi-pack and is now available for pre-order get your copy ordered HERE
A totally new film crew for this DVD gives it a very different feeling to those previously filmed in Katowice, you can really get a sense of the joy on stage, we're so pleased that it comes across as we all had a lot of fun on this tour.
It's the first DVD with Jan-Vincent Velazco, and we have Verity Smith and Christina Booth on BV's so the whole thing has a very new and positive vibe!
The DVD is a snip at £15 (+p&p) and the 2CD set is £10 (+p&p) or you can get a Dragon-Deal by ordering both together for £23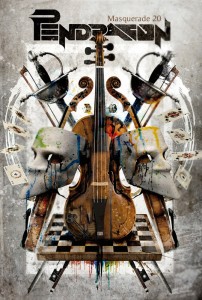 Here's the track listing –
Masquerade 20
The Masquerade Overture
As Good As Gold
Paintbox
The Pursuit of Excellence
Guardian of my Soul
The Shadow
Masters of Illusion
King of the Castle
Schizo
Beautiful Soul
Faces of Light
Nostradamus
Explorers of the Infinite
Come Home Jack
This Green and Pleasant Land
Breaking the Spell
Indigo
Interview with Peter Gee & Jan-Vincent Velazco
In Bardo in Sri Lanka
Photo Gallery
Discography
Desktop Images