As many of you know The Rest Of Pendragon has been out of stock for years now [over 10] so we decided to rejig it for a new release……kind of.
I thought there's no point in including the Fly High Fall Far tracks as they have just come out on The Jewel re-release, so as we had 74 minutes to play with it seemed like the perfect opportunity to add all of the Fallen Dreams And Angels and As Good As Gold mini album tracks. Some of these songs have turned up in various guises over the years as bonus tracks here and there but not as a nice consolidated 'all the loose ends'  type of CD release.
Quite a few of you won't have known some of these songs even existed [unless you're one of the old grizzled Pendragon campaigners from the 90's era]. Songs like Bird Of Paradise and Third World In The UK will be an utter mystery to some of you I suspect but they are really great tunes and I thoroughly enjoyed putting this release together and hearing them again.
The artwork for the original Rest Of was a bit shonky, so I asked Simon Williams to come in a do a full blown new, all singing all dancing beautiful piece of artwork. So we have Fallen Dreams And Angels And All The Loose Ends full of remastered loveliness with stunning artwork. Hope you like it!
Nick B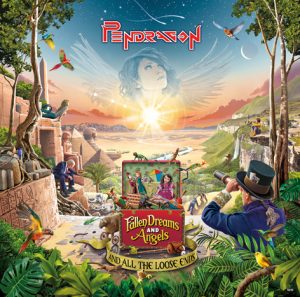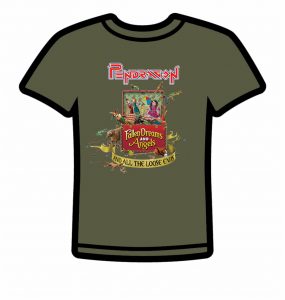 It's going to be available from mid-July. ORDER YOURS HERE
CD £13 plus p&p
T-shirt – £25 (plus p&p) 
CD plus T-shirt deal £33 (plus p&p)
Track listing is :
Saved By You
Lady Luck
Chase The Jewel
Elephants Never Grow Old
Red Shoes
Searching
Contact
Third World In The UK
Dune
Sister Bluebird
Fallen Dreams And Angels
As Good As Gold
Bird Of Paradise
Midnight Running
A Million Miles Away