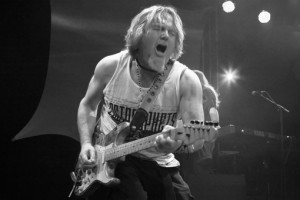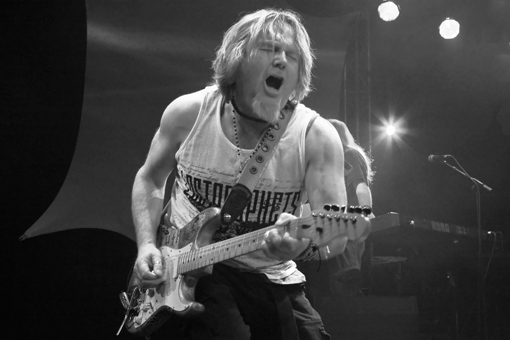 Oh boy, what a great mood I'm in!
We've just got back from the Classic Pendragon Tour, which was fantastic, I am so pleased with my guitar rig and sound, the audiences were great and I've just bought a 2010 BMW GS Adventure  bike to get out across Europe this summer… what's not to love?
I feel a bit guilty about the new motorbike, which has become known as 'New Brian'……any Family Guy fans will know what this means, yup that's right my old GS was still on life support in the garage [Optimate battery charger] while I was out at the 'pet shop' looking at new bikes… it's pretty tasteless to be honest, but that ol' critter went and did in the servo, and I ain't coughing up more 'vet bills' to the tune of £1,500 to get him fixed up!
The tour was amazing, my favourite gig?..phew hard to say, they were all good, but I think Boerderij was pretty special, 600 people in and the band were on fire. The aftermath of Bielsko was also something to behold, on coming out to meet everyone after the gig, I was greeted with a bunch of girls yelling 'Neek, Neek!"…what's not to love?    Also a group of guys decided to go into a mass impromptu a cappela 'do you remember so you recall?'….nice.
And everything in between, Leamington was great to see so many old faces there from over the years, Chez Paullette France was great to see so many new faces [first time we've played in Nancy area], Verona was a bit of  'an evening of jazz with Pendragon' as it was our only seated audience, but by the end they were all down the front giving it big Italian large!
Z7 Switzerland was the only gig someone complained that we went on too late at night, and someone complained he had to cycle home afterwards, I guess that would be pretty tough with all those mountains. But Z7 was probably the most polished performance  of all the gigs. Poznan and Warsaw were great for a spot of the ol' Polish banter, a guy was heckling us to play Indigo in Poznan and as it was in the set we obviously played it…..but he still kept heckling for it, so it was a good excuse to heap on a pile  of good natured abuse on him.
A few weeks before the tour it was our good friend Timo from Holland's 50th birthday  which he decided to celebrate at Riffs in Swindon, so as a bit of a surprise I put together a quick make shift band with me and Peter, and Tony Turrell on keyboards who used to play in Fish's band, and Sam Baker, Julian Baker's young nephew. It was really interesting to hear another keys player and drummer play Voyager and Paintbox…kinda werid in a way, we also did  Marill's Easter with Rich Harding singing and Sugar Mice [one of Timos's favourite songs] with me singing. I really enjoyed doing Sugar Mice, and can see this popping up again  sometime where in the future….Loreley maybe?
Yup, I'm on the bike trip again this summer and will be heading down to Loreley for some camping and drunken festival vibes with Wilce and the Dutch contingent, will be taking the mini travel guitar so will probably be having a bit of a knees up at the campsite after party thing with a few tunes!
Which leads me neatly onto another new thing I'm doing…house gigs. On the forthcoming bike trip we're lining up a couple of small house gigs , just me and an acoustic, we just announced one at Timo's house in Holland for 30 people to cram into his front lounge which sold out in about 2 hours! So I think the idea could really work. I don't just wanna play stuff, I'm gonna be making some of it up as I go along, and probably making some big balls ups on the way but that seat of your pants stuff can be quite interesting, also gonna be telling some Pendie stories of hideous past experiences and hopefully keeping the whole thing pretty light. We're planning one in France too at time of writing, maybe two , watch facebook/OCD page  etc for any announcements.
In my last blog I said for the new album "I have an album title…I have song titles….I have concepts of some of the songs and I have about 30 minutes of very fragmented musical material, but I'm not giving the game away quite yet!"
It hasn't progressed much from that, most of May has been taken up with the tour and sorting out all the fall out from that, paying everyone, setting up the music gear again,  unpacking the suitcases…yes that seems to take weeks, I hate unpacking so much! There ain't no profit in unpacking a freakin' suitcase.
Anyway, in June I've decided to fire up the computer and start laying down the backbone of the songs I have so far. The reason I'm putting it off is I know that once that computer is on and I start this process…..there is no going back and the hair pulling and renting of clothes begins!
I've got the start of the album, which is a plucked uber clean guitar arpeggio which has got this really grainy low fi tape echo on it, so there is this massive contrast between clean and super edgey and the atmosphere is stupendous. I'm trying to work out some really interesting bass guitar things on this album with Peter and have this chopped bass guitar riff that goes over the top of the guitar arpeggio  and maybe some tom rhythm, then this goes into a very melodic chord progression in a Coldplayee way, then settles back down to a very sparse  acoustic chorus…….before we unleash the tiger, which is a killer riff which sounds pretty metally then settles into a rumpy bumpy version of the metal riff…gee does this make any sense to you?? This song will probably be called either Beautiful Soul or  Perception, haven't decided yet, and there are a lot more  ideas and things I want to get in there. The second song I have so far is a massive atmospheric clean guitar chord progression with a huge vibrato sound and analogue delay. Usually I would pick arpeggios to create a continuous sound like intro to Paintbox, but with this I am hankering to leave huge spaces to enhance the atmosphere, this song has a very melancholic feel to it and I think it's gonna be a gorgeous chorus. But later in this song I have been experimenting with some wait for it…metal jazz chords, and they sound killer! I was playing some of this in soundchecks on the recent tour and Scott was starting to get a few mental notes for the drum department. So, it's all shaping up…sort of!
DVD Out Of Order Comes Chaos.
Some people asked what this meant. It's a play on words from the famous Nietzche phrase 'out of chaos comes order' , something to do with most things  naturally, scientifically, no matter how much of a mess they are in, progressing towards a sense of order. Though in my world, what could be less orderly than a touring band, it's all over the place, you make all these finely adjusted plans, rehearsing, sorting out logistics, then get in the bus and it all goes manic and the same with on stage, just this energy that fuels 'this strange engine'…… a rock band on tour!
Douglas Adams
I recently went up to Chandlers guitar shop in Kew, where long time shop manager Al, was having a right ol' hooly as he needed to get over to Islington to collect 40 guitars by 1 o'clock, and it was pushing 12 noon and he had no van…….fortunately I did, so I offered to go with him across the metrolpolis to the house of one Douglas Adams, ya know , the guy who wrote The Hitch Hikers Guide To The Galaxy. After his death in 2001 the family decided to sell off his huge guitar collection, and boy was there some stuff there, all left handed, but some of the acoustics could be restrung for right handed playing. There was the most astonishing collection of Martin acoustics you will ever come across!!!!!  Plus some other gorgeous handmade instruments, one was even called The Galaxy and had planets and whales in mother of pearl inlay on the neck. These guitars now are up for sale, so if any of you have got a few quid and want a piece of history, they are available from Chandler Guitars in Kew   Chandlers Guitars Ask for Al.
So some of ya don't like the yodelling end to Green And Pleas live eh? Geez, we got 2 emails in one day about it, I guess we could end with the obligatory  power chord door slam, but's that's soooooooo predictacle. I must admit though I have been pondering on a better way to end it live.
I'm planning the bike trip across Europe over the next few weeks, so might see some of you at Loreley or the house gig [s]